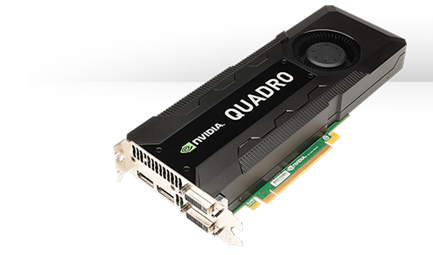 Designed and built specifically for professional workstations,

NVIDIA® Quadro® GPUs

power more than 200 professional applications across a broad range of industries, including

Manufacturing

,

Media and Entertainment

,

Sciences

, and

Energy

. Professionals like you trust Quadro solutions to deliver the best possible experience with applications such as

Adobe CS6

,

Avid Media Composer

,

Autodesk Inventor

, Dassault Systemes

CATIA

and

SolidWorks

,

Siemens NX

,

PTC Creo

, and many more. For maximum application performance, add an

NVIDIA Tesla® GPU

to your workstation and experience the power of

NVIDIA Maximus™ technology

.



QUADRO ADVANTAGE
The NVIDIA® Quadro® family of products is designed and built specifically for professional workstations, powering more than 200 professional applications across a broad range of industries. From Manufacturing, Sciences and Medical Imaging, and Energy, to Media and Entertainment, Quadro solutions deliver unbeatable performance and reliability that make them the graphics processors of choice for professionals around the globe.
DISCOVER THE POWER OF NVIDIA KEPLER™ ARCHITECTURE
Get the power to realise your vision with the new family of NVIDIA Quadro professional graphics. They're fueled by Kepler, NVIDIA's most powerful GPU architecture ever, bringing a whole new level of performance and innovative capabilities to modern workstations.
Whether you're creating revolutionary products, designing groundbreaking architecture, navigating massive geological datasets, or telling spectacularly vivid visual stories, Quadro graphics solutions give you the power to do it better and faster.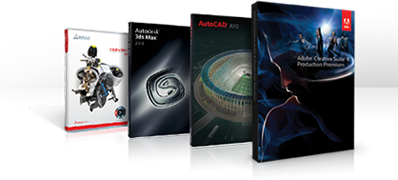 Guaranteed compatibility through support for the latest OpenGL, DirectX, and NVIDIA CUDA® standards, deep professional software developer engagements, and certification with over 200 applications by software companies.
Maximised performance through the unique capabilities of the latest Kepler GPU—including the SMX next-generation multiprocessor engine, advanced temporal anti-aliasing (TXAA) and fast approximate anti-aliasing (FXAA) modes, and innovative bindless textures technology—as well as larger on-board GPU memory and optimised software drivers.
Transformed and accelerated workflows that drive faster time-to-results in product design or digital content creation. This is made possible through simultaneous design and rendering or simulation using Quadro and NVIDIA Tesla® cards in the same system—calledNVIDIA Maximus™.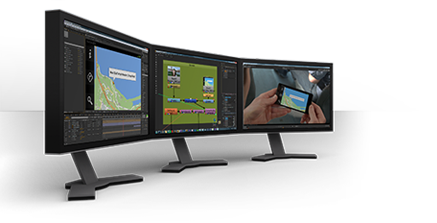 REIMAGINE THE VISUAL WORKSPACE
Quadro solutions combine the most advanced display technologies and ecosystem interfaces to provide the ultimate visual workspace for maximum productivity.
Stunning image quality with movie-quality antialiasing techniques and enhanced color depth, higher refresh rates, and ultra-high screen resolution offered by the DisplayPort standard.
Simplified display scaling through increased display outputs per board, choice of display connections, and multi-display blending and synchronization made possible by NVIDIA Mosaic technology.
Enhanced desktop workspace across multiple displays using intuitive placement of windows, multiple virtual desktops, and user profiles offered by the NVIDIA nView® visual workspace manager.
GET PERFORMANCE YOU CAN TRUST. EVERY TIME
Reliability is core to all Quadro solutions, and one of the keys to the decade-long industry leadership of Quadro-powered professional desktops. Every product is designed to deliver the peace of mind you need to focus on what you do best—changing the way we all look at the world.
Highest-quality products through power-efficient hardware designs and component selection for optimum operational performance, durability, and longevity.
Simplified software driver deployment for the IT team through a regular cadence of long-life, stable driver releases and quality-assurance processes.
Maximum uptime through exhaustive testing in partnership with leading OEMs and system integrators that simulates the most demanding real-world conditions.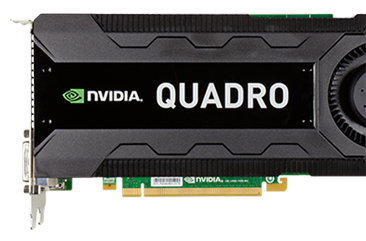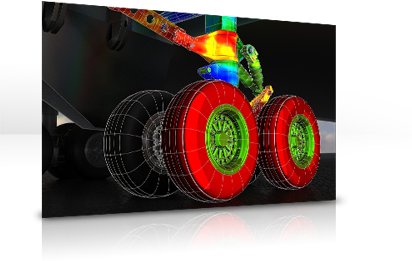 CREATE WITHOUT THE WAIT USING NVIDIA MAXIMUS
The NVIDIA Tesla-accelerated computing co-processor pairs with Quadro products to fundamentally transform traditional workflows. Take advantage of the NVIDIA Maximus solution to simulate and visualize more design options, explore more innovative entertainment ideas, and accelerate time to market for a competitive advantage.